OSCA 2023 Annual Conference
Day/Date: Friday, October 27th
Time: 9AM - 5:00 PM
Location: Sunriver Resort
Theme: TBA
Registration will open in August

OSCA UPCOMING EVENTS - MARK YOUR CALENDAR:
View All Events
President's Letter: School Counselors' Ring of Support
By Roberto Aguilar | March 2022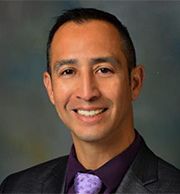 Trauma is all around us. In our communities, in our schools, and in our students. Trauma, and its impact on students, existed before the current pandemic, although it is highlighted and perhaps experienced by everyone now because of the pandemic. How do we work with students in trauma and who is the person to do this work?
Many school counselors and school districts are trained in trauma-informed care across our state. I'd like to highlight one district and its work. The school population in Ontario 8-C School District on the southeast border of Idaho is 67 percent students of color and more than 95 percent economically disadvantaged. The district is highly aware that being cognizant of trauma is vitally important when working with students. Ontario Middle School (OMS) Counselor Stacey Parrish shares that she has been working with her administration to provide staff-wide trauma-informed practices before the pandemic and expressed that "students who have experienced a lot of trauma no longer experience small trauma" and greater care and patience via relationship building is necessary to help students dealing with trauma.
The work at OMS connects with a recent presentation at the Arizona School Counselor Annual Conference where I was reminded by professor Parent Rebeske of Grand Canyon University that "students best learn when students feel safe and supported by the adults around them, a ring of adults surrounding their exterior, who shields them so that they can learn and play safely." School counselors alone cannot deliver trauma-informed care. It must be intentionally delivered by the entire school community. Stacey perfectly models how we as school counselors play a vital role in bridging administration and teachers in working toward the common goal of intentionally being mindful of the impact of trauma while working with students. Thank you, Stacey, for your work.
I know that I may not be comprehensive in my knowledge or practice in trauma-informed care but I cannot help but express once again that our work, at its core, in caring for each individual student so that they are heard, seen, valued, and empowered to find peace and success in their environment, is the basis for helping students in trauma overcome their obstacles. The intentional practices of examining our biases, creating positive and nurturing relationships with and for our students, and being lifelong learner-leaders will help us do the hard work of aiding our students and filling the cup from which we pour our hearts and soul.
And that's why I am the biggest fan of my favorite people in the world, you school counselors. Thank you for all that you do!
Contact Roberto Aguilar, OSCA president, at
OSCApresident@oscainc.org
.