OSCA 2021 Annual Conference
Day/Date: Friday, November 5th
Time: 9AM - 4:30 PM
Location: Oregon State University
Theme: If Not Now, When?
Cost of Attendance:
$190 - Early Bird Registration until 10/01/2021
$225 - Conference Registration after 10/01/2021
$175 - Graduate Student Registration
Each Registration will include annual OSCA membership (November 2021 to November 2022)

CLICK ON THE CALENDAR LINK BELOW TO REGISTER.





OSCA UPCOMING EVENTS - MARK YOUR CALENDAR:
View All Events
President's Letter: Intention Guides the Way
By Roberto Aguilar | November 2021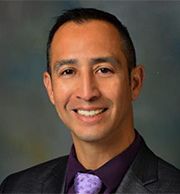 I would like to share a few of my beliefs before addressing this month's theme.
First, you are revolucionario. You have the ability to ignite revolutionary change.
Second, you are enough. We have a challenging role but we know that every little thing you do is valuable to your students and your school.
Third, as my students have helped me learn, it is important for all of us a soñar sin fronteras (to dream without borders/limits).
I use these sentiments daily to help me with work as a school counselor but especially in addressing this month's theme, Racial Justice Starts in School.
To me, racial justice at its core is caring for each individual student so that they are heard, seen, valued and ultimately empowered to find peace and success in their environment. This is already the basis of why you are a school counselor. The way in which we improve this is by being intentional about our work.
On the macro level, start with data. Look at your school's graduation rate. Look at discipline and bullying. Look at homelessness. Look at suicide rate. You will find that students of color and other marginalized student communities are deeply impacted and heavily inflicted in these areas. After assessing our data, it becomes more clear that we need to evaluate our school system and find ways to reassemble it so that we can provide appropriate support to these communities. Fortunately, we can address many of these issues with our comprehensive school counseling program, not only to help our students access academic success but also help them live a full, meaningful life.
So how do we do this work? First, we begin with listening to and working with our students and their families. This could be done as part of your School Counseling Advisory Council. It could be done as part of an affinity group, a Tier 2 intervention strategy. In my building, we decided to create a parent affinity group (Padres) for our largest demographic and began hosting monthly Spanish-language parent meetings. Our data demonstrates that since the creation of our Padres group in 2012, our Latinx student graduation rate increased by 20 percent because our families were informed and knowledgeable about how to support their students. This intervention not only helps our Latinx population, it also increases the entire school's graduation rate. Encouraged by this data, we initiated our student affinity group (Ascensión) in 2016 which led to an additional eight percent graduation rate increase for our Latinx students, a graduation rate which is now equal to or greater than the school-wide graduation rate every year since the group's inception. Now, via our comprehensive school counseling program, we are supporting the creation of multiple affinity groups in hopes of improving our overall graduation rate even more.
In Tier 3, we implement appropriate interventions using a collaborative approach working with our community mental health and school-based health center partners on a weekly basis via our Care Team'. Utilizing a holistic approach, including the student's cultural needs, we develop academic accommodations and identify appropriate community resources to aid our students so that they may be able to fully engage in school.
These are a few steps that we have initiated to help ensure that we are addressing the needs of our diverse student populations. Of course, we still have room for growth and improvement, but starting the process of evaluating school policies and programs and intentionally working to address discriminatory practices, even just one, is the genesis of helping our students start a path toward improved health and wellbeing. And you, esteemed school counselor, are just the person to lead this process.
Contact Roberto Aguilar, OSCA president, at
OSCApresident@oscainc.org
.